The Gifts under the Tree (and other minutiae)…
So what's with the deal with the album art? And how does this art relate to the songs? Below are answers (and hints) to the album cover art and it's interesting (or not so interesting) relation to the tracks on the actual disk.
---
Reindeer


This one should be straightforward: It's a reindeer. With a red nose. Based on a model my dad used to make out of wood with his scroll saw.
---
"Bells"


Ukrainian Carol - AKA "Carol of the Bells"… See how this works?
---
Hippo


This is the hippopotamus I want for Christmas in track 7. Another easy one.
---
Three Kings


Why, it's Three Kings! What else? Another easy one- to get your confidence up.
---
Trolley


Now it gets a starts getting tricky. Remember "Trolley" from Mr. Roger's neighborhood? See if you can hear the show's theme from somewhere on the disc. (hint: start listening somewhere after track 11)
---
Ukelele


Where do they play ukeleles? Hmmm… the islands maybe?
---
Black Bird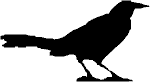 If you listen closely to Mele Kalikimaka, you may hear the tune "bye bye blackbird" lurking around in there. You may not, but you may.
---
Dreidel


Didn't spot the dreidel? Look on the floor under the tree - between the Hippo, Rudolph, and just under the Three Kings. There's a little dreidel there. I'm not sure why it's under a Christmas tree, but there it is, waiting to be played with.
---
Cradle


This could be the cradle for Mary's Little Boy Child, but you get extra credit if you picked up What Child is This in We Three Kings.
---
Ship


A little ship - could it be the SS Minnow? See the liner notes for the rest of this hint…
---
Herring


Ignore this one - it's just a … um… well… nevermind.
---
Shaker Christmas Tree


You might not have noticed, but the Christmas tree on this CD was based on a beautiful piece of folk art - an old Shaker design, dating back from the mid 1800s. I based the CD cover's Christmas tree on the Shaker design in the lower right panel, substituting snowflakes for the flowers in the original Shaker design. Naturally, the Shaker tree is related to Simple Gifts. Check out http://history.sandiego.edu/gen/snd/simplegifts.html for more on Simple Gifts and other Shaker hymns.
---
Angel


Why, it's one of the angels heard on high. But you knew that.
---
Grandma

After traveling over the river and through the woods, who did think you'd see at Grandma's house? But, there's an additional link between grandma and another song on the disc. See if you can find it.
---
Cat and Mouse

These are just here for fun. We don't have a cat or mouse in my house. That I know of.But my Grandma does. At least I know she has the cat. She may have the mouse as well, I suppose, but again, it doesn't matter. These guys are just for fun.Either that, or they're just a couple of red herr… uh… nevermind.Merry Cats-Mouse!